Providing support services for people living with HIV/AIDS
The Center in Asbury Park, Inc., is a volunteer based New Jersey not-for-profit service organization, providing support services for people living with HIV/AIDS and their caregivers, since 1992. The Center offers its clients a safe haven in order to instill a sense of community and stability in their lives as well as permanent, supportive housing for 25 adults. Everyday, The Center provides this and more to the HIV positive population of Asbury Park who don't have a home. Led by Father Bob Kaeding since 1992, a dedicated staff of mostly volunteers provides daily meals as well as shelter, long term housing, and a sense of community in downtown Asbury Park, NJ.
The Center has been home to many worthy events, that not only help our clients, but improve or expand community awareness. Our only goal is to keep helping our clients and residents as we lend a hand to each and every visitor or resident. Please check our schedule often here and on social media. Get involved. We always need a helping hand.
The journey to finding your best self starts by
giving your best self to others.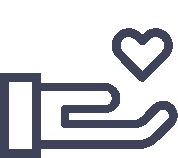 The Center has partnered with Harness Giving so that when you shop, you can round up your change to the next dollar and that change is donated directly to helping us serve those living with HIV/AIDS.
Please Note: The Amazon Smiles program has been discontinued by Amazon.
"if you judge people, you have no time to love them."

Mother Teresa